Col d'Orcia Organic Extra Virgin Olive Oil
2015 Organic Production available from November 3rd 2015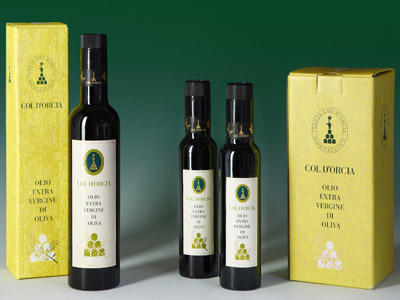 ---
Olive-groves:
About 5,500 olive trees located on the hill between St. Angelo in Colle and the Orcia river.
Height:
200/350 m. above sea level.

Olive varieties:
Frantoio: the color goes from deep green to yellow. Very fragrant aromas with hints of rennet apples and cut grass. The mouth is fruity and spicy as is very rich in polyphenols. Represents approximately 70 % of our olive groves.
Leccino : produces oil with lighter coloring, light fruitiness and delicate hints of herbaceous.
Moraiolo : produces a very spicy oil, with hints of artichoke and bitter aftertaste
Olivastra: it is the most cold-resistant variety. The nose is delicate with hints of cut grass. Col d' Orcia has olives trees more than 400 year with a production that can reach up to 500 kg of olives per tree.


Picking method:
Each variety is picked separately when it reaches the ideal maturation. The blend aims to obtain the best balance between fluidity, bitterness and spiciness.
Extraction system:
Cold extraction sithin 24 hours from picking in a non-stop plant.
Preservation:
In steel tanks, away from heat and light.
Bottling:
After filtering by letting the oil fall through a cotton filter.


---

Main Features
Colour:
Clear of a green color with golden hues.

Bouquet:
Decided olive parfume, delicate.

Taste:
Fruity, moderately spicy, with rennet hints, medium high fluidity.

Total acidity:
0,23 g/l
Peroxides:
6.9 meq/Kg