The Brunello di Montalcino Old Vintages Library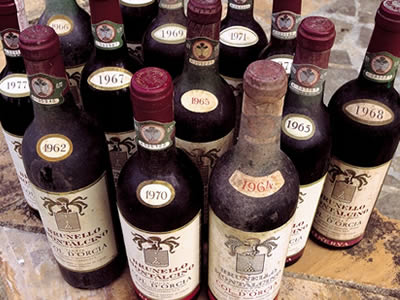 ---
Col d'Orcia collected over the years more than 50,000 bottles of old vintages of Brunello di Montalcino and carefully preserves them in its cellars. This is a unique and valuable patrimony, which only few Italian estates can claim.
In 2003, on occasion of the 30th anniversary of its family activity at Col d'Orcia, Count Cinzano decided to start releasing some vintages from the collection. Such authentic gems have been reserved for selected customers all over the world and have enjoyed an ever increasing success.
The bottles, carefully selected from the cellar, are examined against the light to check the amount of sediment and the intensity of the color. The original labeling is scrupulously maintained. The historic vintages are packed in 6 or 3 bottle wooden cases, with a choice of different vintage combinations. Each box also contains a document of authenticity signed by the Chairman, Count Francesco Marone Cinzano.
The historic Brunello di Montalcino vintages of Col d'Orcia have been auctioned at Christie's and the wines have widely exceeded the expectations of the rigorous analysis of wine experts worldwide.


Traditional Brunello part of the History of Montalcino
Involving, in which the elegance of the maturity combines perfectly with the freshness of a still present fruit
Bottles, carefully selected from the cellar, with still an optimal level of content