Research & Development about Sangiovese Wine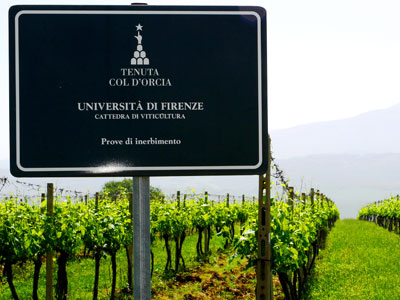 Col d'Orcia is one of the most active producers in Tuscany in terms of research and development, guided by the principle that wine quality results from achieving a perfect balance between the vine and its environment. For a wine to be a true expression of the land, the grapes must be of the highest quality standard.Most of the research conducted at Col d'Orcia has taken place in collaboration with the University of Florence. Key projects include:
- Col d'Orcia clones of Sangiovese. Since 1980, the Poggio al Vento vineyard has acted as a laboratory for the first significant work on clonal selection of the Sangiovese grape in Montalcino. In 2003, the 20+ year research brought to fruition certifications of the first two clones named SG-CDO-4 and 5. A third clone named SG-CDO-8 was certified in 2011. Sharing these clones with all Brunello producers is Col d'Orcia's way of contributing to the overall quality and growth of Montalcino.
- Density of planting. In every "terroir" there is an optimum number of plants per hectare that will ensure the best balance of production for given soil and climatic conditions. Rootstock represents an additional variable which also come into play. Col d'Orcia has a dedicated field reserved for experimenting with rootstocks where densities vary from 2,500 plants per hectare up to 8,000 on three different rootstocks. The outcomes of these plantings are continuously under study.
- Cover crops. Col d'Orcia realized the need for biodiversity many years ago and pioneered, research in vineyard management using different cover crops. This research evaluates many aspects from reducing soil erosion to improving the environment for workers. Additional projects are ongoing such as green harvest, clonal selection of Moscadello, winter pruning techniques, and canopy management.