The "terroir" of Val d'Orcia and Montalcino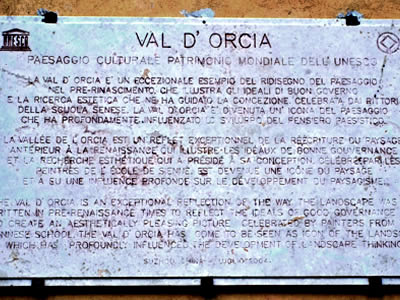 The estate is located on the southern slope of the Montalcino territory and is an integral part of the Orcia Valley, the Val d'Orcia.
The Val d'Orcia is a unique territory that was declared part of the Patrimony of Humanity in the year 2004. UNESCO explains as follows the reasons for this:
"The Val d'Orcia is an exceptional reflection of the way the landscape was rewritten in pre-renaissance times to reflect the ideals of good government and to create an aesthetically pleasing picture celebrated by painters from the Siennese school. The Val d'Orcia has come to be seen as icon of the landscape which has profoundly influenced the development of landscape thinking".
On the hill overlooking the Orcia River, were the vineyards are planted, you can still today see some very old olive trees planted in rows. They have survived for more than 4 centuries and testify the uniqueness of the microclimate on the Col d'Orcia hill. Already 400 years ago this part of Montalcino was an agricultural exploitation thanks to the particularly favorable conditions of soil and climate.
The vineyards are located on the southern slope of the Montalcino territory, on hilly lands and extend over 540 hectares, from the Orcia River to the village of Sant'Angelo in Colle, at about 450 metres over sea level.Its position is extremely favorable as it faces south directly, and it is also protected by the barrier of Mount Amiata (1.750 meters) against meteorological events such as floods or hail, and to the mild climate coming from the Tyrrhenian coast, in the west, where the sea is some 35 km away.
The nature of the soil is undoubtedly favorable to grape growing, with fundamentally loose grounds, poor in clay and rich in limestone and inert materials.
The area is not affected by fog, ice or late frost, whereas the frequent breezes guarantee the best conditions for the vine health conditions. Its climate is typically Mediterranean, with limited rainfalls concentrated in the months of March, April, November and December.
The high number of sunny days throughout the whole vegetative season ensures a gradual and complete grape ripening. The vineyards facing south and the particular nature of the soil convey notes of structure and elegance to the Brunello produced on this side of Montalcino.